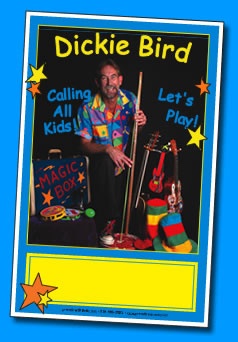 Dickie Bird comes equipped to entertain with an ample supply of up-beat music, a suitcase full of magic tricks and amazing gizmos like the Bubble Machine.
Opportunities abound for audience participation. It's fast-paced fun - singalongs, action songs, magic tricks, the everybody-joins-in jugband and even puppet pal "Doug the Wug" makes a guest appearance.
Here's what presenters say about the performance:
"Personable, enthusiastic, talented, appealing."
"Children were thoroughly involved."
"Great props!"
"The perfect combination of music, magic and fun!!!"
Dickie Bird (aka Richard Knechtel) has performed at festivals, resorts, theme parks and special events throughout Canada.
Looking to download some information on Dickie Birdl?
Click here to download Dickie Birdl One-Sheet

To Download Photos, Click on image to enlarge.
All Photos Copyright to Richard Knechtel