IT"S CHRISTMAS TIME
Lively, funny songs for kids. Every track is a winner!
Christmas is for kids - that spirit is wonderfully captured on this album. Upbeat and fast-paced, it is music that will be treasured throughout the Yuletide.
Children love singing along and there's ample opportunity to that with 'It's Christmas Time' Parents get a kick out of it too because of the great music, good messages and general all 'round fun! Totally jubilant from start to finish, this CD is a musical adventure that will entertain for hours.
1 Anybody Here Seen Santa
2 Rudolph / Counting On Santa
3 The Way To Spell Santa
4 It Just Keeps Snowing
5 Happy When I Sing (Christmas)
6 Here Comes Santa
7 Santa In The Chimney
8 Ho, Ho, Ho
9 Jingle Bell Rock
10 The Christmas Kitten
11Worry Warts Christmas Eve
12 Jingle Bells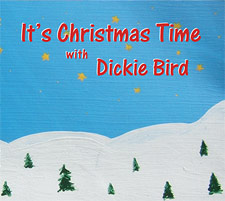 WATERSONGS
From a repertoire developed for the Grey Bruce Children's Water Festival, 'Watersongs' is a collection of fun songs about, you guessed it, Water!

1 Celebrate Water
2 Three Little Fishies
3 Talk About Water
4 Dan at the Dam
5 Five Green and Speckled Frogs
6 Water
7 Wave to the Great Lakes
8 It Ain't Gonna Rain No More
9 Tub Bub
10 It Just Keeps Snowing
11 Just A Little Drop of Water
12 Divin' Duck Blues
13 Be Kind to Your Web-Footed Friends
14 Lota Wata
15 Windmill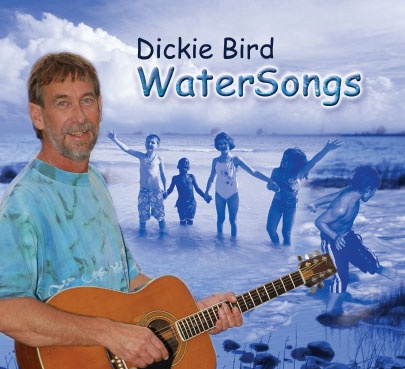 CALLING ALL KIDS
Great songs for children. Traditional favorites plus lots of funny and interesting original songs.

1 It's a Good Day
2 Tub Song
3 Water
4 Shinin' On
5 Wug Rap (Doug the Wug)
6 Growin'
7 Marching Song
8 Michael Finnegan
9 It Followed Me Home
10 Wiarton Wilie
11 Butterfingers
12 Swinging on a Star
13 Can a Poor Boy Hide
14 Big George
15 Wormeater
16 A Bicycle Built for Nine
17 Ridin' my Bike 'Round Town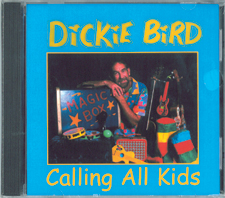 DICKIE BIRD
A lively combination of original and traditional children's songs. Excellent sing-along CD/tape.
1 Dickie's Kitchen
2 Jelly Bean
3 Coming 'Round the Mountain
4 The Farmer and the Queen
5 Baby Prune
6 Inside
7 Girl From France
8 I'm Not Small
9 Root, Root, Root for Rutabagas
10 Some Things Live
11 Right Field
12 Haul Away Joe
13 It Ain't Gonna Rain
14 Haunted House
15 Crocodile's Toothache
16 Going Ape for Bananas
17 Oh Susanna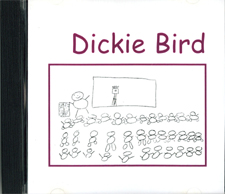 ITS CHRISTMAS TIME
Happy Holiday songs about Santa, snowmen and reindeer. Some standards and a holiday story add to the merriment.
1 Happy Holidays
2 It's Christmas Time
3 Here Comes Santa
4 Chubby Little Snowman
5 Jingle Bells
6 Has Anybody Here Seen Santa?
7 Up On The Housetop
8 Oh Come all Ye Faithful
9 Counting on Santa
10 The Way to Spell Santa
11 Christmas Shuffle
12 The Twelve Days of Christmas
13 Worry Wart's Christmas Eve
14 The Winter Fire
15 Good King Wenceslas
16 At Christmas
17 Five Little Bells
18 An Elephant For Christmas
19 We Wish You a Merry Christmas